Gift Bag for Sri Lanka friends, family and colleagues
Giving is a way of showing our gratitude and the Season of giving is the best time. And this year, showing our love is both needed and what we give will be appreciated more than ever before.
So have you begun pondering on what exactly to give your loved ones, friends or colleagues this season? Have you been stumbling on the same gift choices and options? After a difficult year filled with stress and anxiety caused in numerous ways, would you prefer to make your gift-giving a little bit more
thoughtful this time? How about switching to giving a gift bag full of goodness?
The Goodfolks Gift bag is packed with an exciting array of all natural and healthy products sourced from small businesses. Some are certified organic while almost all are loaded with nutrition and wellness. No artificial chemicals or preservatives have been used. So when you are looking at a healthy option the Goodfolks Gift bag from Sri Lanka ticks all the boxes!
What's more, you also help support Sri Lankan small businesses and the efforts to support the local economy. We all know that many Sri Lankan micro, small and medium enterprises as well as the farming community faced a challenging year, economically as well as socially. This could be the best time to give back by supporting local businesses, farmers and communities at large by transforming to a socially responsible gift-giving habit this year.
The Goodfolks Gift bag is the best gift option in Sri Lanka given that it is good for the receiver, good for Sri Lankan communities, good for the planet and it would make you feel good too. The bag itself is sourced from a crafts community in Jaffna so yay!
The gift bags are available for Rs.5000 and Rs.10000 and you also have the option to make your own (Minimum value must be Rs.5000). Delivery is free with the Colombo City Limits. We also offer bulk discounts for corporate customers.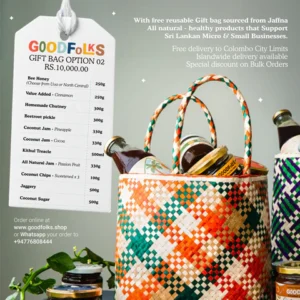 So let's make a change for good, even with the gifts we give this season.
Stay blessed and stay safe
Love & Light from all of us at Goodfolks