When the Pandemic set in 2020 Sri Lanka had already faced a string of unfortunate events which include the Easter Sunday attacks and a constitutional coup. The economy that was picking up after the conclusion of a 30 year old war started to stutter in the face of these challenges. And the 2020 pandemic and the extreme lockdowns enforced here brought life to a complete standstill.
These challenges would not have been as severe if various segments of the economy were properly supported before these events. But they weren't. Large scale corruption, lack of continuous policies and lack of accountability to name a few meant that despite having government organisations for various industries, they failed to convert potential into results. 
Therefore despite having an abundance of natural resources, a wealth of skill and craftsmanship and even the desire and the passion to succeed, the Micro-Small-Medium based farmer or manufacturer struggled to find a footing. Large scale private sector establishments meanwhile kept making large profits with few benefits trickling down to the people who did the hard work. And in an environment of constant price increases and significant disruptions in industries caused by new technologies, the affected communities felt as if they were falling through the cracks.
As the lockdowns set in, some of us had the space to reflect on the state of the world and our own lives while most others had to go into survival mode. This is when we saw a lot of those from the MSME sector trying to find markets online as the onground business had come to a halt. Our social media pages seemed to be full of people trying to stay afloat by finding buyers for their products. When we looked at some of these we realised they had immense potential but failed to find traction because they were not up to the mark.
Our credentials to step in
Founder Dinesh Gratian Perera had early exposure to banking and finance and followed up with a 15 year stint in Advertising. He quit whilst in the position of Creative Director and Head of Digital for one of Sri Lanka's top communication agencies. During his tenure he worked on numerous brands, local and international, government sector and ngos, small businesses and multinationals. This provided Dinesh with a very large picture of the Sri Lankan economy and also interactions with a cross section of society. When he did quit it was in part because he felt advertising was doing a lot of harm to people and the planet and felt it no longer aligned with his values. And he alongside Damith Sudantha moved to found Foozoo Mantra – an inclusive, health and wellness focused travel company. This meant that Dinesh now also experienced the challenges faced by MSMEs and witnessed the disparity with the actual needs of an industry and how the organisations in place to help these very industries functioned.
Dinesh's sister, Anne Perera meanwhile had experience conducting the Achievers programme on ARTtv as a business journalist. Conducting over 200 programmes, interviewing entrepreneurs from all walks of life, also gave her an insight to how this sector works and the challenges they faced. She later moved on to also work in creatives for a couple of advertising agencies before settling down in the role of Corporate Communications Manager at one of Sri Lanka's leading conglomerates.
Taking an idea, crafting its story and telling that story in a compelling manner to win over people's hearts and minds were what Dinesh and Anne were naturally talented at. These talents were magnified through the various other experiences and exposure they had gathered. And when they saw real people struggle to connect the dots, they felt they could use all their talents and skills to make a difference. That was how Goodfolks was born amidst the stillness of a global lockdown.
Personal values aligned with business values
Goodfolks is not just about helping communities or creating value added products for the global market. It is a quest for a more kind and considerate planet. Dinesh and close friend and collaborator Damith Sudantha began exploring spirituality and connecting with the global conscious community. The conversations and the circles opened their eyes to the inescapable truth – 'We are one'. 
Over time it became increasingly difficult for them to work on things that did not resonate with their conscience. This is why Dinesh Incorporated the following three deliverables through all that they do as part of Goodfolks
Organic – Ethical – Sustainable in Consideration
The keyword here is 'Consideration'. The reasons are as follows.
Sri Lanka is a small island but it packs a mindblowing level of diversity. It could be the most diverse place on the planet whichever way you look at it. A lot of the world's expectations don't work here. And sometimes simply going after a tag means we lose sight of the very intention that got us started.
Organic is a step in the right direction as far as eliminating harmful substances. However, it is not the only answer. Also till recently the costs and processes involved in getting an organic certification meant that only those with deep pockets could obtain one. Thankfully now there are ways in which a group of farmers can get together and apply for an Organic certification. Yet this still does not answer the fact that planet earth is a place of diversity. Organic farming does not support this when large swathes of land are used to churn out just one or two crops. The better solution is natural farming. Where we support small farmers and households to become part of a more planet friendly production landscape. And our efforts are geared to find meaningful solutions rather than join any green bandwagon. 
Similarly the standards for ethical and sustainable practices are often made with the right intentions but on ground – it is really hard to make meaningful connections. Take the instance of going plastic free. We have been made to believe that plastic is bad. The communication on this tends to be black and white. But sometimes the environmental costs associated with glass as a packaging material are much higher – but now, most consumers expect a glass jar to feel right about their purchasing decision. 
So our approach is to factor in all the good that is going around and to harness them in ways that best suit what we do. So that there is a more mindful and constantly evolving spiral upwards towards a better way of doing business. And we undertake the challenge to present all this to our consumers and partners so that we may all collectively work towards an outcome that favours us all.
"Goodfolks is not about following established norms – It is about finding what works for our collective good at the origin and extending that right to the consumer"
When we identified bee honey as a product with potential, the first thing we did was pay a visit to a few beekeepers.. And as they related their story and that of Sri Lankan bee honey, we realised just how much of untapped potential there was in the product. For instance we discovered that Bee honey from Sri Lanka has a naturally high percentage of medicinal nutrients because of the diversity of medicinal plants that is to be found in the natural environment. This made perfect sense given the prominence for bee honey in the island's rich ayurvedic history.
We also discovered that Sri Lankan Bee Honey changes colour texture and taste depending on where it is sourced from. And so we launched Sri Lanka's first ever Regional Bee Honey Collection.
We are now working to achieve ISO & HACCP certification for our product and develop exciting ayurvedic blends.
This process has enabled us to play a huge role in transforming Sri Lanka's bee honey market. And take this goodness global. With every new angle we uncover we get to add value to our product and share that value with the farmers through better prices, provision of resources and facilities, and through training and awareness workshops.
Today we are rolling out these amazing bee honey products that include the Ayurvedic Blends to international markets.
We realise that in order to really support Micro and Small businesses and their ideas, we need to meet them on their turf. We need to identify the problems and challenges unique to them. And find innovative solutions that make sense to them – all the while considering our own values and what we wish to achieve as a brand.
This brings about complex challenges and significant costs. But we also know that the truly conscious consumer understands that a good price is fair to everyone in the chain. Inequality and the problems we face arise from someone somewhere being shortchanged. 
The consumer culture promoted to us fails to address all the hidden costs to the environment and communities. We hope to educate and constantly challenge established norms as we work towards a more equitable and sustainable future.
Sri Lanka's Micro-Small-Medium Sectors have a plethora of winning ideas. However, a lack of exposure and resources mean a lot of these stagnate, never being able to find the right markets or traction. Some others fail to compete in a market driven by certifications and standards, despite having what it takes.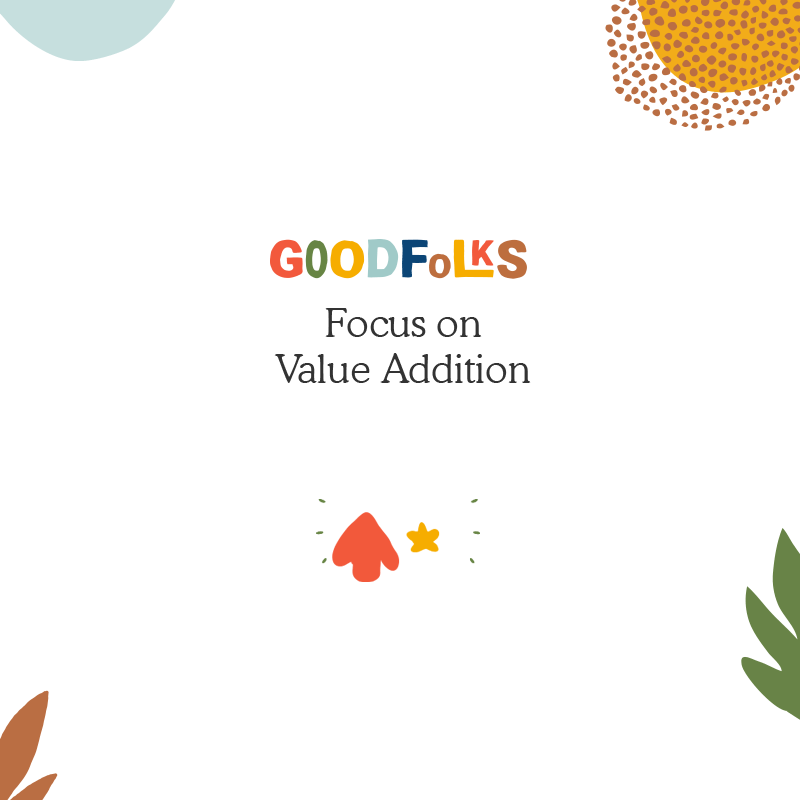 We overcome the above problem by identifying select products/ideas and elevating them to global standards. This process might include, better branding, product differentiation, storytelling and in some cases getting standards and certificates that even the playing field. We then put these refined products on one ecommerce. By promoting just one brand on one platform, we get to maximise opportunities for our suppliers.
We focus on those suppliers (and manufacturers) from the Micro-Small-Medium sectors who are the most challenged in taking their products and ideas to the global stage.
To be part of our platform, the products/ideas must fit our own values. For starters they need to be Organic, Ethical and Sustainable. They also need to be of 90% Sri Lankan origin
Sri Lanka is already well known for certain products in the global marketplace. These include, tea, cinnamon and garments as well as tourism. We hope the Goodfolks platform will enable a whole other basket of products to achieve global recognition and a boost to their popularity.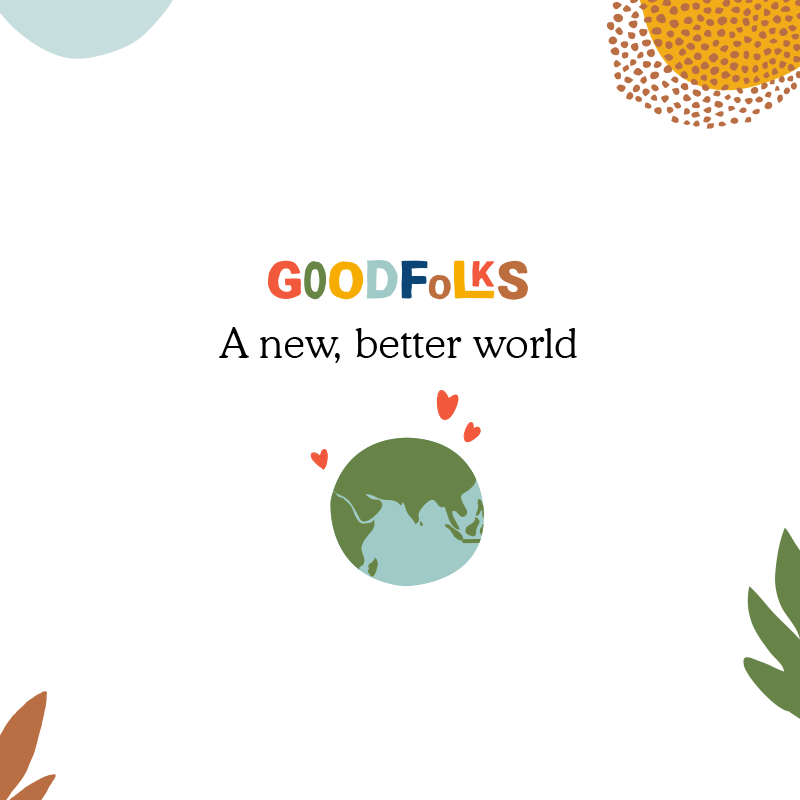 Pillars

of

our

product

story
To us, a world class product and its quality are just one angle of our story. We also focus on the human story as these are inspiring on their own and can lead to others emulating them and finding their own success. The other pillar is the business process. We require all our products to be ethical, organic and sustainable in practice. Even when certifying these traits can be challenging, we work closely with our suppliers to achieve these targets as this is paramount to creating a world of co-creation, conservation and respect. We follow this same principle in our own operation through environmentally friendly scheduled deliveries, package choices and how we function as a business.