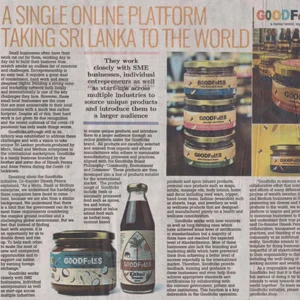 Press article as it appeared on the Daily Mirror 29 August 2020
Small businesses often have their work cut out for them, working day in day out to build their business from scratch amidst an endless list of concerns and challenges. Entrepreneurship is no easy task. It requires a great deal of commitment, hard work and many sleepless nights. Building a strong sales and marketing network both locally and internationally is one of the key challenges they face. However, these small local businesses are the ones that are most accountable to their local communities with a much less carbon footprint. Despite all of this, their hard work is not given its due recognition and the recent outbreak of the covid-19 pandemic has only made things worse.
Goodfolks, although still in its infancy was established to address these challenges and with a vision to take unique Sri Lankan products, produced by Micro, Small and Medium enterprises to the international marketplace. Goodfolks is a family business founded by the brother and sister duo of Dinesh Perera and Anne Perera during the Covid-19 lockdown.
Speaking about the Goodfolks initiative, Co-founder Dinesh Perera explained, "As a Micro, Small or Medium enterprise, we understand the hardships these companies have faced to come here, because we are also from a similar background. We understand that there is a limit that the government can do to meet these requirements considering the complex ground realities and a challenging global environment. But we feel that instead of finding fault with anyone, it is an opportunity for us to double down and rise up. To help each other, to make the most of new and unexpected opportunities and to support our nation by earning foreign exchange."
Goodfolks works closely with SME businesses, individual entrepreneurs as well as start-ups across multiple industries to source unique products and introduce them to a larger audience through an online platform under the Goodfolks brand. All products are carefully selected and sourced from organic and ethical manufacturers who adhere to sustainable manufacturing processes and practices, aligned with the Goodfolks Brand Philosophy– 'community, Environment and Consumer'. These products are then developed into a line of products suitable for the international market. The product range of Goodfolks include fresh or minimally processed food such as spices, tea and honey, processed or value added food such as herbal teas, coconut based products and spice infused products, personal care products such as soaps, scrubs, massage oils, body lotions, home and decor including reed ware, copper, hand-loom items, fashion (wearable) such as shawls, bags, and jewellery as well as wellness products that are designed and manufactured purely on a health and wellness consideration.
Goodfolks works with new ventures as well as long running ones which have achieved some level of certification or standardisation but a majority of them have not reached the expected level of standardisation. Most of these businesses also lack the branding and marketing skills which have prevented them from achieving a better level of success especially in the international market. Therefore, Goodfolks provide feedback, training and guidance to these businesses and even help them achieve appropriate standards and certifications by collaborating with the relevant government, private and other institutions. This function is a key deliverable in the Goodfolks operation.
"Goodfolks in essence will be a collaborative effort that combines the skills and efforts of many different players in a process of wealth creation for Micro, Small and Medium businesses in Sri Lanka. While presenting our diverse and high quality products to the world, we will also be a platform to inspire and provide leadership to numerous businesses to think bigger and understand their true potential", said Co-founder Dinesh Perera. Through collaboration, transparent accounting practices, and thinking of success as a community vs an individual corporate entity, Goodfolks intends to present a new template for doing business- one that is respectful of all stakeholders and adheres to their responsibility to think of everyone, including the well-being of our planet in seeking success and wealth.
As a responsible and caring company, Goodfolks feel that it is their duty to act, but instead of doing it by itself, Goodfolks intends to work towards creating 'a better world together'. To learn more about the Goodfolks initiative, please visit www. goodfolks.shop.
They work closely with SME businesses, individual entrepreneurs as well as start-ups across multiple industries to source unique products and introduce them to a larger audience