If you are working on cutting down your direct sugar intake or seeking out to transform your diet to one that's healthier, you got to start including Goodfolks range of amazing certified organic coconut Jams. They are made of 100% natural ingredients and coconut sugars. Because these sugars are not refined, they contain a host of natural nutrients.
But Coconut Jam is a new product on the shelves so a lot of people are not sure on how best to enjoy them. So we made an amazing list of 10 ways to enjoy coconut Jam!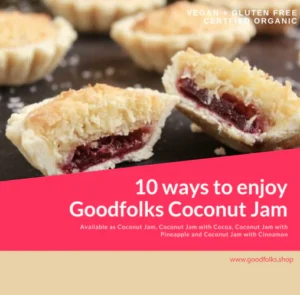 Spread it on toast or crackers.
Mix it into your fruit bowl and drizzle with Goodfolks coconut treacle and coconut flakes
Coconut Jam with Cinnamon as well as coconut jam with pineapple works well with Canapés
Work into your favorite waffle recipe and drizzle Goodfolks coconut treacle or Kithul treacle on top
A perfect filling for your crepes
A perfect filling for anything really, also try with bread rolls, in between your coconut roti or any pancake
Add a dollop over your ice-cream on those days you crave comfort food
Add as layer into your cakes to provide a sweet tropical surprise
Ideal to serve alongside fruit tarts and pastries
As an everyday sweetener
Goodfolks coconut Jam has the consistency of Dulce-de-leche and the flavored varieties available with Goodfolks allows for countless ways to experiment. Enjoy!